Posts Tagged 'guest author'
I am so pleased to be a guest on Book Club Mom's blog where I am asked some great questions. If you haven't already, pop on over and see what I have to say about writing in a cafe and other things.
Book Club Mom
Author name: Darlene Foster
Genre: Middle-Grade Travel/Adventure/Mystery
Books: Amanda in Arabia: The Perfume Flask; Amanda in Spain: The Girl in the Painting; Amanda in England: The Missing Novel; Amanda in Alberta: The Writing on the Stone; Amanda on The Danube: The Sounds of Music; Amanda in New Mexico: Ghosts in the Wind; Amanda in Holland: Missing in Action; Amanda in Malta: The Sleeping Lady to be released Spring 2021
What's your story and how did you become a writer? I am a Canadian author who has written the Amanda Travels series featuring a spunky twelve-year-old who loves travelling to unique places where she encounters mystery and adventure. Readers of all ages enjoy following Amanda as she unravels one mystery after another. I've won prizes for my short stories and have been published in various anthologies. I have also written a bi-lingual book for English/Spanish readers.
I grew up…
View original post 904 more words
I am pleased to have as a guest on my blog, Debra Purdy Kong, who has just launched her 6th mystery novel. Debra has been a guest on my blog, here where she talked about how she gets her ideas and gives some great advice to anyone thinking of writing. Today she talks about her inspiration for the latest Casey Holland mystery, The Blade Man.

So, This Bus Driver Approached Me…
By Debra Purdy Kong

After my third Casey Holland mystery, Beneath the Bleak New Moon, was published, a local bus driver contacted me through Twitter to ask about my books. My series is set in and around Vancouver, British Columbia, which is where the driver and I live.

My protagonist, Casey, is a 33-year-old transit security officer who's employed by a private bus company. She rides the buses, usually after a customer complaint, to deal with smaller types of issues that either evolve into or merge with larger crimes. By book two she becomes legal guardian to a teenager and has begun a romance with a bus driver named Lou, which makes her personal and professional life complicated and tumultuous at times.

My real-life driver offered to answer any questions I might have about the job. I jumped at the invitation and over several months, we met at Starbucks, where I learned that this driver had been assaulted by passengers on three separate occasions.

At that time, drivers had no protective shields. Their only line of defense was to press an alarm button which would notify the police and allow the dispatchers audio access to what was happening. Some of the buses had cameras but others didn't. Depending on the situation, a supervisor might also be dispatched in a vehicle. The thing is, a lot can happen before help arrives.

Each time, the driver's recovery took longer. After the third assault, PTSD eventually forced a change in careers. With two kids to support, it wasn't an easy decision, but this person felt that drivers just weren't sufficiently equipped or physically prepared to deal with attacks. On some levels, I could relate to this. Having worked in retail for five years and later as a security guard, I'd also faced hostile encounters, but none where I was actually struck.

Despite the attacks my driver experienced, this person had a surprising amount of sympathy for some of those angry, desperate folks. They weren't drunk jerks, but people with serious mental health issues who'd been abandoned by the system. That revelation led to the inspiration for my latest Casey mystery, The Blade Man.

We live in a stressful world. Even before the pandemic arrived, medical experts expressed concern about the rise in mental health issues and the lack of resources to adequately cope with people who needed help. This is why I felt compelled to address the issue in The Blade Man.

While the villains are caught at the end, the larger mental health issue is not resolved. Even in fiction, the topic is too complex to neatly wrap up. Crime novels often shine a light on societal problems which, as a reader, I've always found compelling. I hope that my real-life driver feels safer now and that a happy ending evolved from all the pain and trauma.

Debra's Bio:

Debra Purdy Kong's volunteer experiences, criminology diploma, and various jobs, inspired her to write mysteries set in BC's Lower Mainland. Her employment as a campus security patrol and communications officer provide the background for her Casey Holland transit security novels.

Debra has published short stories in a variety of genres as well as personal essays, and articles for publications such as Chicken Soup for the Bride's Soul, B.C. Parent Magazine, and The Vancouver Sun. She is a facilitator for the Creative Writing Program through Port Moody Recreation and a long-time member of Crime Writers of Canada. More information about Debra and her books can be found at www.debrapurdykong.com or contact her at debra_kong@telus.net

Book Blurb for The Blade Man:

Who is the Blade Man and why has this mysterious loner been attacking Mainland Public Transport bus drivers? And who is trying to burn MPT down? The company's president suspects an inside job and orders security officer Casey Holland to launch an internal investigation or face termination.

Convinced that she's being set up to fail, Casey feels the pressure. With her and Lou's wedding only weeks away, Casey desperately needs answers, but anger at work and on the streets thwart her efforts. Nor do the police welcome her help.

More employees are attacked, and the president forces Casey to take deeper risks. But how much is too much? How far must she go before facing off with him and MPT's enemies? Find out in this explosive sixth installment of Casey Holland transit mysteries.

Links For the Blade Man:

Amazon: mybook.to/TheBladeMan
Kobo: https://www.kobo.com/ca/en/ebook/the-blade-man
Apple books: https://books.apple.com/us/book/id1495092401

Find Debra at:

Website www.debrapurdykong.com
WordPress blog: https://debrapurdykong.wordpress.com
Twitter: https://twitter.com/DebraPurdyKong
Facebook: www.facebook.com/pages/Casey-Holland-Transit-Security-Mysteries/139005706175139
Here is my review of the first book in the series, The Opposite of Dark.

https://www.amazon.ca/gp/customer-reviews/RYL0T07XW90SM/
These books are great and don't need to be read in order. Check them out!
I am included in this group of writers who discuss what we have been doing during this time of isolation. Thanks, Susan Toy, for putting this together.
Books: Publishing, Reading, Writing
This is the second part of a series in which Authors who I've promoted in the Authors-Readers International series tell Readers what they've been doing during these past few months of self-isolating … See the introduction to Part 1 for a further explanation. (All links on the authors' names will take you to their A-RI promotion.)
Pincher Creek, Alberta, is my home since last summer, as I believe you know. The advantage is that Pincher in Iso is quite a bit like Pincher not in Iso. Have to watch my step only at the post office and Co-op. And strictly avoid Walmart. Two hour walks are frequent—to offset my beer consumption.
Working on a film with Tom Radford. Great fun.
I've been reasonably busy during the pandemic. My book about the secret lives of taxi drivers has been delayed due to all of this chaos…
View original post 1,445 more words
Grateful to Sally Cronin for featuring an excerpt from Amanda on the Danube: The Sounds of Music as well as a fabulous review. I wrote this book in the middle of a move to another country. Writing the story kept me grounded and sane as we settled in and learned to live within a new culture. You can see why this book has a special place in my heart. Enjoy.
Smorgasbord Blog Magazine
Welcome to the new Cafe and Bookstore  New Series 2020 – Share an Extract with an opportunity to show one of your earlier books some love and attention by sharing an extract.. Check out the above link for all the details.
Author Darlene Foster  shares an extract from the adventure for Amanda on the Danube: The Sounds of Music. Amanda finds herself on the Danube helping a homeless young musician.
About Amanda on the Danube – The Sounds of Music

Twelve-year-old Amanda Ross finds herself on an elegant riverboat with her bestie, Leah, cruising down the beautiful Danube, passing medieval castles, luscious green valleys and charming villages. When she is entrusted with a valuable violin by a young, homeless musician during a stop in Nuremburg, another boy immediately tries to take it from her. Amanda tries to keep the precious violin safe for the poor prodigy, and along…
View original post 992 more words
Today was supposed to be the release of Laura Best's adult novel, Good Mothers Don't. But due to current affairs, like many things, the release has been delayed until June. But I would still like to tell you about it as it is such a great book. Mark it as "want to read" on Goodreads. It can be preordered on most bookstore sites as well.
It's 1960, and Elizabeth has a good life. A husband who takes care of her, two healthy children, a farm in the Forties Settlement. But Elizabeth is slowly coming apart, her reality splintering. She knows she will harm her children, wants to harm her children, wants to be stopped from harming her children. She doesn't sleep, becomes incoherent. Elizabeth is taken away.
We rejoin her in 1975, "well" once again, living in a group home and desperately trying to fill in the enormous gaps electric shock therapy has left in her memory. She remembers five words from her past and knows they are significant, but their meaning is slippery and she can't grasp more. She knows that Jewel and Jacob are her children, though she can't picture their faces, and more than anything, she longs to find them and explain that she never meant to leave for so long.
Shifting through time and points of view, acclaimed author Laura Best's first novel for adults allows us to see the ripple effects of mental illness and its treatment in the mid-twentieth century. Good Mothers Don't is a moving exploration of illness, memory, and how we fight for who we love.
This is my review of Good MOthers Don't
What would you do if you were a mother and felt you were losing your mind? This incredible book introduces us to Elizabeth, a wife and mom in the early 1960s who is grappling with her sanity. Then something happens to push her over the edge, resulting in a family that is torn apart. This well written, gripping story is told by Elizabeth and those affected by her. I have enjoyed everything Laura Best has written in the past, but she has outdone herself with this story. She has created characters so believable you begin to think you have met them somewhere before, perhaps a neighbor or a family member. I felt the pain, the hope and most of all, the love. I closed the book and wanted to start reading it all over again. This story will stay with me for a long time. Thank you Vagrant Press for the ARC.
Review on Goodreads by Darlene Foster
Laura was kind enough to answer a few questions for me.
Where did you get the idea to write, Good Mothers Don't?
In the very beginning, Good Mothers Don't started out as a short story about a young girl who is abandoned by her mother. I wanted to discover why the mother left her children behind and so I wrote another story, told by the mother this time. What I eventually ended up with was a collection of stories that my editor suggested was really a novel. So I went about filling in all the missing pieces, which sounds rather simplistic when, in reality, it took a long time for me to fit all the pieces of the story together. The story revealed itself to me as I wrote so there were things that came as a surprise to me.
When and where do you prefer to write?
I write, quite often, in the evening since I work during the day, but even when I'm at work I spend a lot of time thinking about my characters. I wrote my last three books in my office but I recently replaced my ailing laptop and so I've often been writing in my comfy chair in the living room lately while stealing glances at the TV.

Is there a drink or some food that keeps you company while you write?
When writing, I like to have a cup of herbal tea nearby. I like trying new teas and I'm quite enjoying chamomile and lemon at the moment.

Do you sometimes base your characters on people you know?
Some of my characters are a conglomerate of people I've known but once I find a particular character's voice they let me know who they are. It is usually upon reflection that I notice any similarities to my characters and the people I know.

If you could choose one fictional character to be your best friend, who would you choose and why? (I'm sure there are many but just pick one)
I would probably choose Anne Shirley. She is such a spirited character and I'm sure we'd have some wonderful adventures together.

Tell us about your next writing project/projects.
At the moment I'm working on a young adult novel with a male protagonist which is a bit different for me, but I also have a couple of adult novels that I'm really anxious to get back into writing. I usually have several stories happening at once and tend to jump back and forth.

A brief bio
Laura Best has had over forty short stories published in literary magazines and anthologies. Her first novel, Bitter, Sweet was short listed for the Geoffrey Bilson Award for Historical Fiction for Young People and made the Best Books for Kids and Teens 2011 list. Her book, Flying with a Broken Wing, was named one of the Bank Street College of Education's Best Books of 2015. Her book, Cammie Takes Flight was nominated for the Silver Birch award and was a CCBC starred selection. Good Mothers Don't is her first novel for adults.
Social Media Links
Blog : lauraabest.wordpress.com
Twitter: @laura_a_best
Facebook: @laurabestauthor
GoodReads: https://www.goodreads.com/author/show/5135897.Laura_Best
Amazon Author Page: amazon.com/author/laurabest
I would keep an eye out for this book as it is sure to be a bestseller!!
Copyright © 2020 darlenefoster.wordpress.com – All rights reserved
I've been blogging for almost ten years and I love it. It's a great way to communicate with like-minded people, and I've made wonderful friends all over the world through my blog. The blogging community is so supportive, sharing ideas and providing encouragement.
One friend I've made is Mary Smith from Dumfries, Scotland. She has written some wonderful books including a guide to her hometown. When I finally get to Scotland, I will be taking this book with me.
She has also written a couple of books based on life in Afghanistan, where she lived and worked for a number of years. This is my review of No More Mulberries.
I bought this book because I love reading stories that take place in the middle east. I was not disappointed. Mary Smith has written a wonderful story about cross-cultures, family, relationships and Afghanistan. The detailed descriptions of the land, people and culture are fascinating. The story is told through the point of view of Miriam, the main character, who is a wife, mother and medical practitioner. It is easy to identify with her as she struggles to maintain a home for her family in a culture so different from her life in Scotland. Miriam also has to deal with ghosts from the past and feelings she has suppressed for too long which are having a negative effect on her marriage. This well-written book takes place in a troubled time just before the Taliban take control. Since the reader knows what will eventually happen, but the characters don't, it keeps you on your toes and turning the pages. I highly recommend this book.
During a book signing in British Columbia last fall, I had a most pleasant surprise. Mary's cousin Grace hand-delivered a card from Mary to me! Grace had been in Scotland to visit Mary who knew I would be at a bookstore not too far from where Grace lived, so she sent a card along. How special is that?
I have asked Mary to be a guest on my blog and answer a few questions.
If you could choose a fictional character to be your best friend, who would you choose and why?
This one stopped me in my tracks, Darlene, and I found it difficult to pick one – so I'm afraid I cheated and chose two. I would have loved to be best friends with Jo March of Little Women. She is such a great character. She, like me, was a tomboy – I climbed trees, went fishing with boys because I didn't know any girls who wanted to fish. I even played on building sites, climbing over the rafters of half-built houses (which makes me shudder to think about now). I think we'd have egged each other on to do ever more daring things and I think we'd have laughed a lot together. She was strong-willed, determined not to be bound by the conventions of the day. Best of all, she wanted to write. I'd never met a character – a girl at that – in a book who wanted to be a writer and was totally bowled over by this. If Jo could do it – which she did very successfully – then maybe I could, too. I was slightly less impressed with her in Jo's Boys when she began to only write for family and stopped writing for money, saying "most of us (she was talking about literary women) write too much." I don't think my teenage friend Jo would have adopted such an attitude so I'll go on believing the teenage Jo March and I are best friends.
The cheat of my second one is a bit quirky. I would love to be best friends with Flora. Flora is the main character in a wonderful novel called The Bees by Laline Paul – and Flora is a bee. She is born into the lowest class of the hive but she's a brave wee thing and survives and thrives, breaking the rules of the hierarchy in what is a compelling thriller about the secret life of the hive. I think we could be great friends, Flora and me.
If you could personally see one natural phenomenon that you have never seen, what would it be and why that one?
I would love to see the Aurora Borealis. Growing up in Scotland I always loved the song, The Northern Lights of Old Aberdeen, sung so often in school, at ceilidhs, on the radio, in which the lights are described as the "heavenly dancers". I've seen amazing images of the phenomenon on the internet and would love to see it for real.
If you were to be paid to write a book about any subject you wished, what would it be about?
I want to write a biography of a remarkable woman who was a mechanical engineer in the early 1920s. She had an amazing life: supervising thousands of women (who could build anything from a bicycle to a battleship) at Barrow-in-Furness during the First World War, running a car factory, which employed mainly women, taking part in car racing trials and then establishing a hugely successful steam laundry – they laundered the uniforms of the soldiers who took part in the D-Day Landings. I have done some research but it would be lovely to be paid to do further research and writing the book.
Tell us about your next writing project.
Well, until I'm offered a nice advance to write about my woman engineer, my current project is turning the material on my blog, My Dad's a Goldfish, into a memoir. My father had dementia, bad enough in itself, but his wife of forty years decided she wanted a peaceful life and left him, just at the time he most needed stability and continuity in his life. I moved in with him and started the blog as a way of recording events – and to keep my writing muscle working – and from feedback it seems all sorts of people would be interested in reading it as a book. It's not in any way a 'misery memoir' – it has a lot of humour – but it does tell it like it is, from finding way to engage my father's interest in life to dealing with him cheating at dominoes, from dealing with what it's like to have to wipe your father's bum to sharing his joy in the countryside.
A brief bio
Born on the island of Islay but grew up in Dumfries & Galloway from the age of seven. After school had a miserable year working in a bank, went hitchhiking round France and Italy, came back and worked for Oxfam for ten years. Went for a holiday to Pakistan and found a job so the next ten years were spent first in Pakistan then in Afghanistan working for an aid organisation. A freelance journalist, I also write poetry, fiction and non-fiction including local history.
Social media links including Amazon.
Website: www.marysmith.co.uk
Blogs: My Dad's a Goldfish https://marysmith57.wordpress.com
Mary Smith's Place https://marysmithsplace.wordpress.com
Amazon Page US: http://amzn.to/2ecvjbP
Amazon Page UK: http://amzn.to/2jGw9A9
Twitter: https://twitter.com/marysmithwriter
Facebook: https://www.facebook.com/profile.php?id=100000934032543
Thanks for answering my questions, Mary. I would love to be friends with Jo March as well. And thanks for being my blogging friend. I'm sure we will meet in person one day soon. Good luck with your writing projects.
Check out Mary's blog where she is writing a fascinating series of posts about her experiences in Afghanistan. https://marysmithsplace.wordpress.com/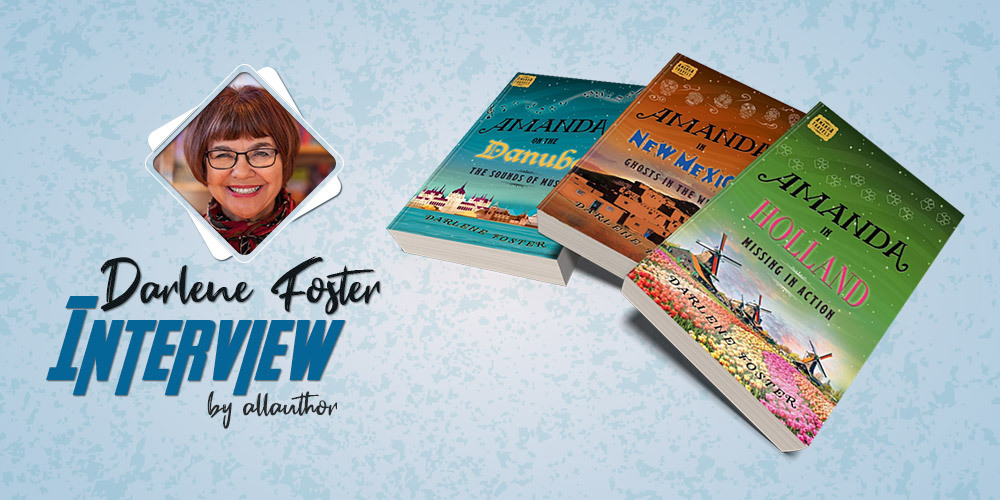 Brought up on a ranch in southern Alberta, Darlene Foster dreamt of writing at the age of eight. When she was twelve, one of her stories was published in the local newspaper. It took her three years to write the first book. Darlene Foster's books have an interesting and fast-paced story and include a huge amount of fascinating information. She loves writing for children. Read full interview…
I was delighted to be asked by AllAuthor for an Author Interview with Mady Joshi. I enjoy being part of AllAuthor as it is a great place to showcase your books. They provide great promo materials and gifs that are easy to create, even for someone not that technical.
Thank you for this interview, Mady! I enjoyed answering your great questions.
I hope you enjoyed my interview on AllAuthor and learned about a favourite childhood memory of mine as well as other things about me and my books.
Here are a couple of promo photos and gifs I have created with AllAuthor.
My favourite
Today I´m a guest of Colleen Chesebro where we have a great conversation about doing research, the importance of grammar and retirement. Please check it out.
Hello everyone! This week I'm thrilled to bring you one of my favorite award-winning children's authors, Darlene Foster. I asked her to pick three or four questions from my huge list HERE. This is Darlene's second visit to my blog. We had so much fun last time, she couldn't wait to stop around again! Darlene Foster…
Source: Conversations with Colleen: Meet Author, Darlene Foster, @supermegawoman
I am delighted to be a guest on Debra Purdy Kong's blog featuring a wonderful 5 star review. I am off to Canada to do a book tour and visit family and friends. Debra has listed a couple of events in the Vancouver area. If you are nearby, please do drop in and say Hello. Would love to meet some of my blogging buddies.
Welcome Guest Blogger, Darlene Foster
My guest today is author Darlene Foster, the creator of the popular Amanda Travels series featuring Amanda Ross, a twelve-year-old Canadian girl who loves to travel to interesting places. The seventh book in the series, Amanda in Holland – Missing in Action, has just been released by Central Avenue Publishing and is available through most bookstores.
Read more
https://debrapurdykong.wordpress.com/2019/10/02/welcome-guest-blogger-darlene-foster/